Google

Since June 2022, I've worked as a designer on Google's Material team at their office in Chelsea NYC.


Year: 2022
Category: Fellowship
Mentor(s):

Visit Google Material's website here.
The Kickback
Archival book and collateral for a new kind of charity – I reached out to The Kickback to see whether I could help with any endeavours involving design. I gladly learned of a desire to publish an archive of the first four years of the program. Over the next 10 weeks, we compiled and designed the book. The brand also underwent some changes to reflect some of the unique strides they're taking.


Year: 2020 - Ongoing
Category: Identity, Publication, Motion, Website
Mentors: Jamal Burger & Jane Zash
Collaborator: Niks
Photography: Tyler Hayward
Publication Page Count: 272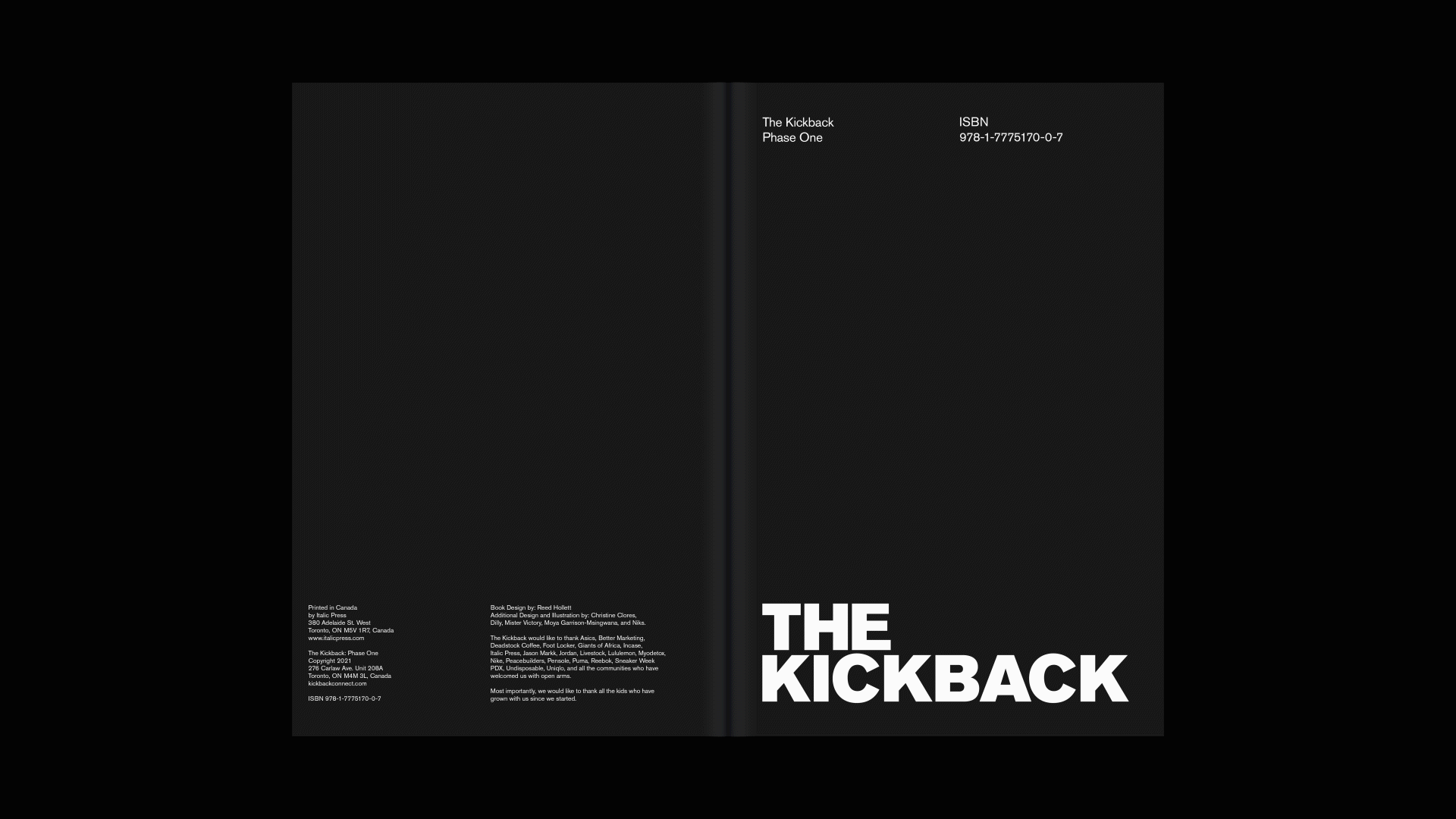 Spreads
Hundreds of pages meant learning about what's involved in managing the content for a long-form book. After understanding the challenge of designing unique asymmetrical layouts for each page, I decided to build out about 10 templates to work the content into.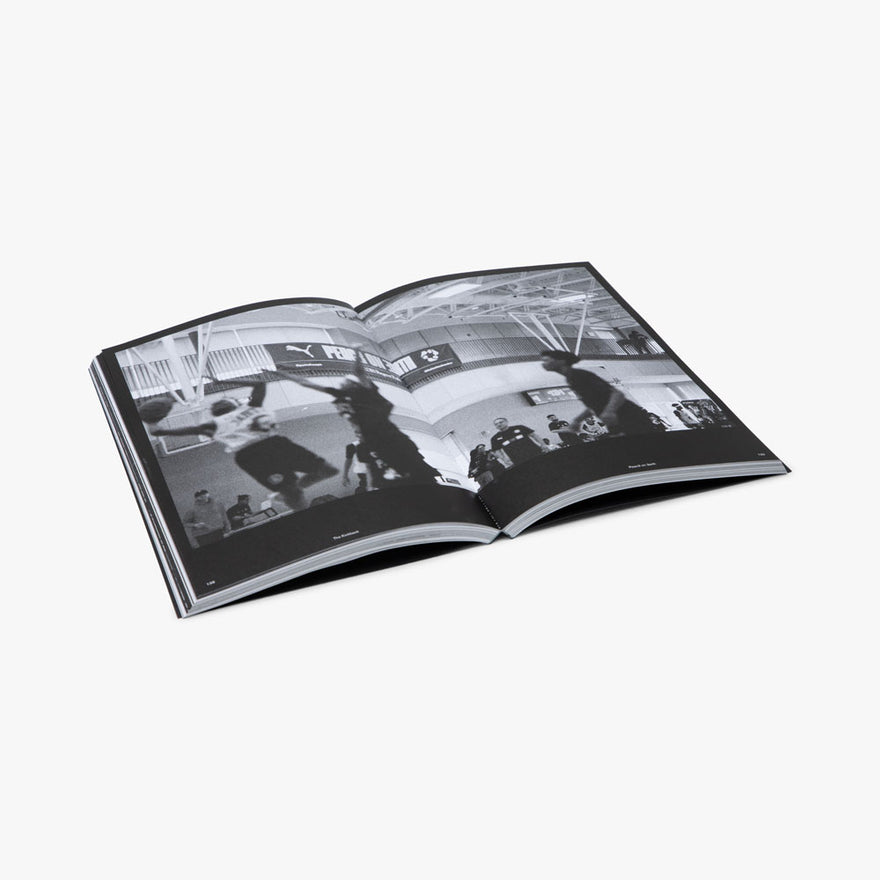 Four Year Archive
With photography being at the core of many involved in The Kickback, the first four years resulted in thousands of photos. The book is 272 pages of black and white photography. We printed and sold about 300 copies.
Merch
We printed five colours of hoodies to launch the new brand. The back includes a bitmapped image of the results of one of TKB's many sneaker drives. 2016, the year TKB was founded, along with the words 'Redefining Community', TKB's slogan, are also included on the bar of text on the back of the hoodies.
Brand Guide
To help ensure the brand's logos and typefaces are used consistently across various applications, I helped construct a guide for future designers. Applications like web and stationery were considered. Eventually, I applied my experience compiling final files into a design kit that can be easily accessed from an online link.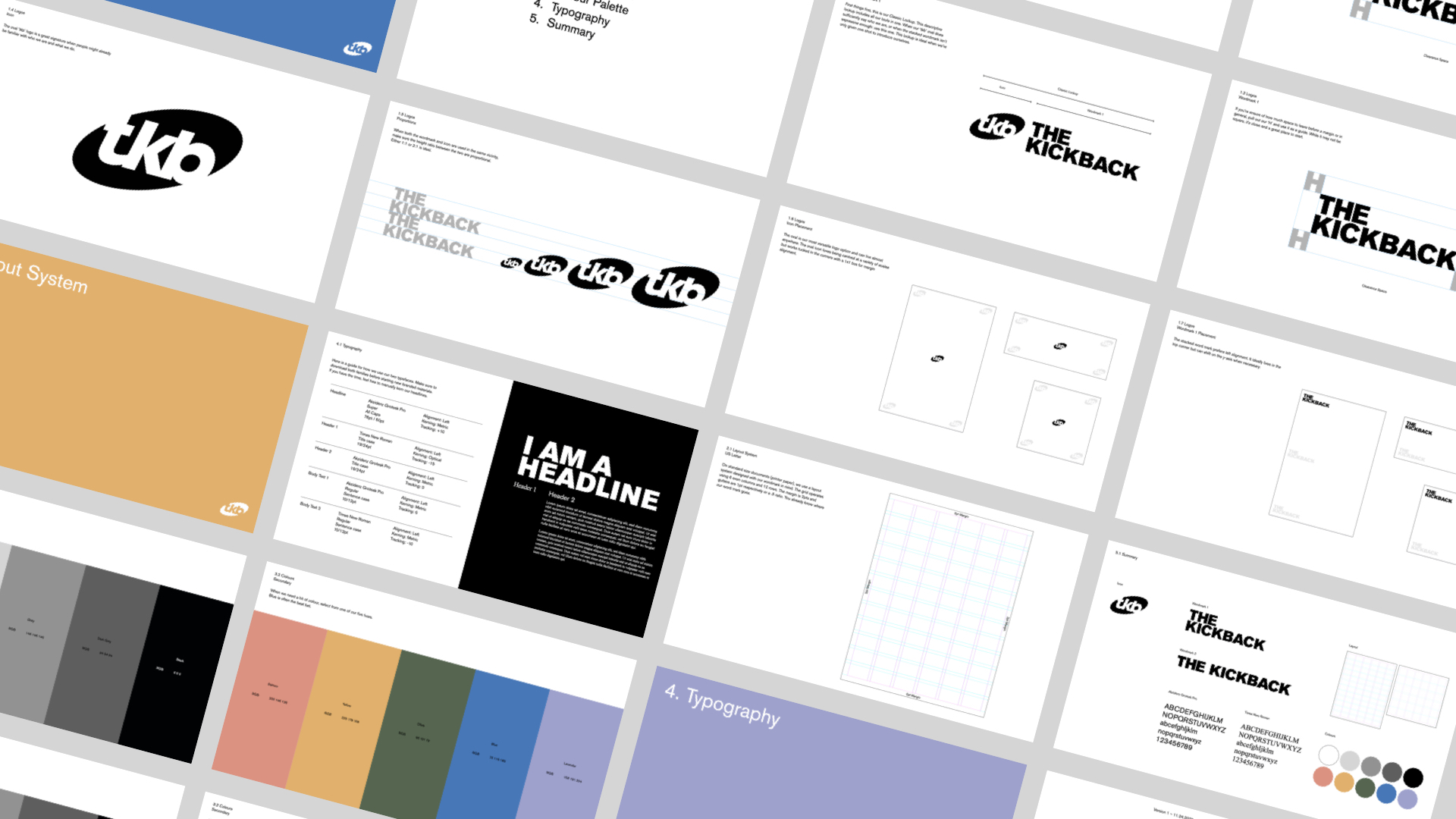 Website

The Kickback's website receives donations, inquiries, and is a destination for new content and stories that are updated several times a week. My goal was to quickly inform a visitor of TKB with a few messages on the home page, plus create easy access to past initiative recaps and blog postings.
Shoe Boxes
We also made shoeboxes for when shoes are being given out. Adding to the boxes: I developed a sticker system to make the distribution process easier. There is space to distinguish the recipient's name, the shoe category, along with the size from US3.5 all the way up to US16 all in a few marks of a pen.
Check out some of the process work here.
Astrodome
Identity for a legendary Houston venue – the Astrodome's new branding was meant to highlight the venue's unique dome structure and re-establish the venue as an exciting destination to see music.
Year: 2021
Category: Identity, Motion, Website
Mentor: Jorge Montero
Typefaces: Gravity by ABC Dinamo and DM Sans & Mono by Colophon
The Brand
Astrodome's brand identity uses a classic Houston pairing of blue and orange, made popular by the Astros who once called the venue home.
Digital
Motion and web applications were a primary considering when designing this identity. The blue and orange offer options to highlight copy. The icon is treated with a scaling bloom animation, and images and text are revealed through dynamic swipes.
Stationery

The brand thrives in print, combining floods of the iconic blue and orange with light grain off-white paper stock.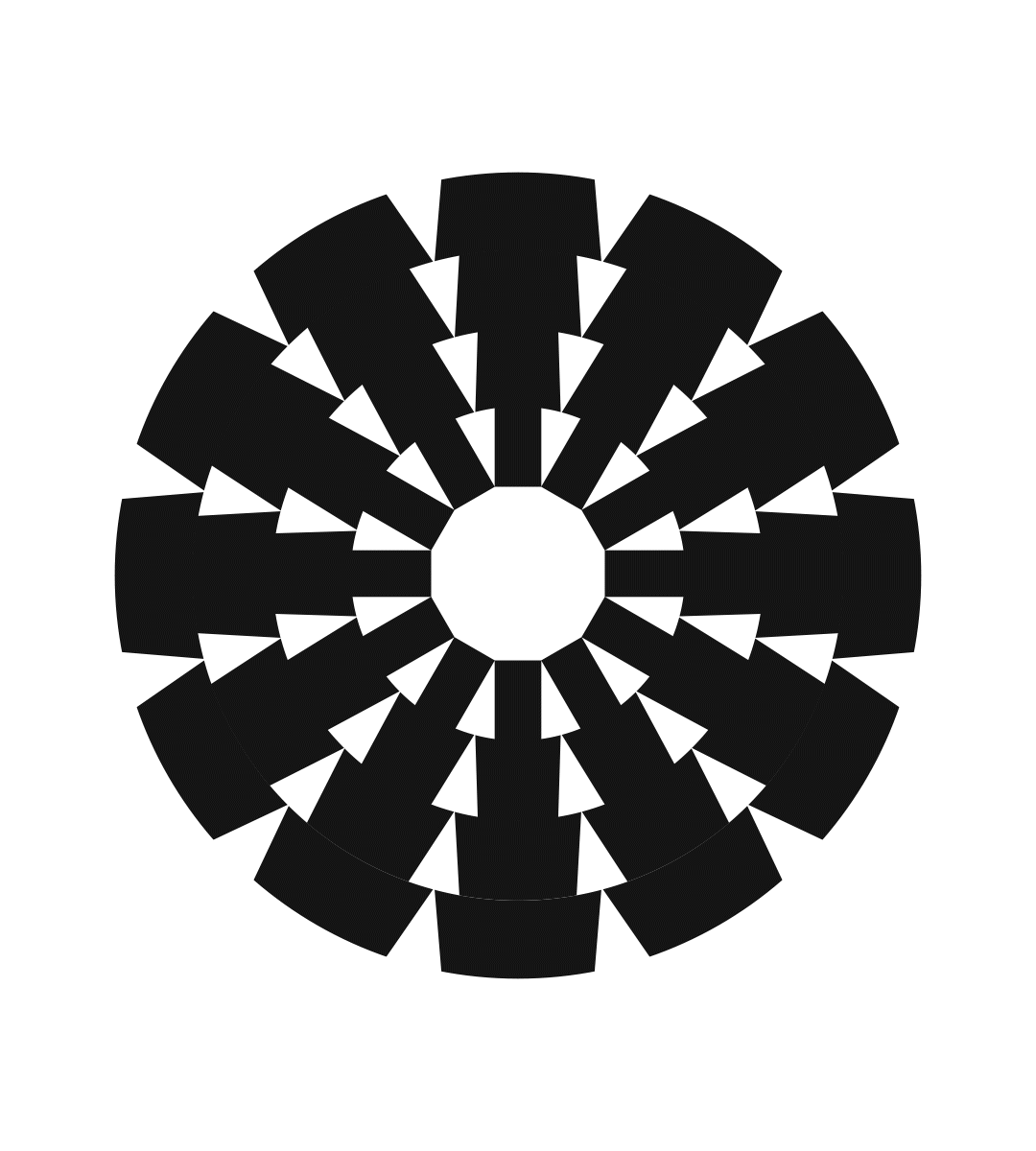 Physical Application
The Astrodome branding is also meant to function on all sorts of physical applications. From usher's pins, to wildposting, to merchandise for the general public.
Signage
The identity is equiped with a set of icons to help with easier wayfinding.
Chess Directory
Research project that investigates the cultural overlap of chess and art – This publication came from a desire to learn about the ways culture and chess overlap. After watching Queen's Gambit and witnessing the rise of online chess amongst my friends, I had many questions: What makes you good at chess? Is there a link between chess and creativity? How old is the game? What happens when chess intersects with other artistic fields like design, fine art, and television? I tried to find the answers to many of these questions and include them in a publication.
Year: 2021
Category: Publication, Motion, Photography
Mentor(s): Thomas Hull
Typeface(s): Quadrant by Matter of Sorts and Neue Haas Unica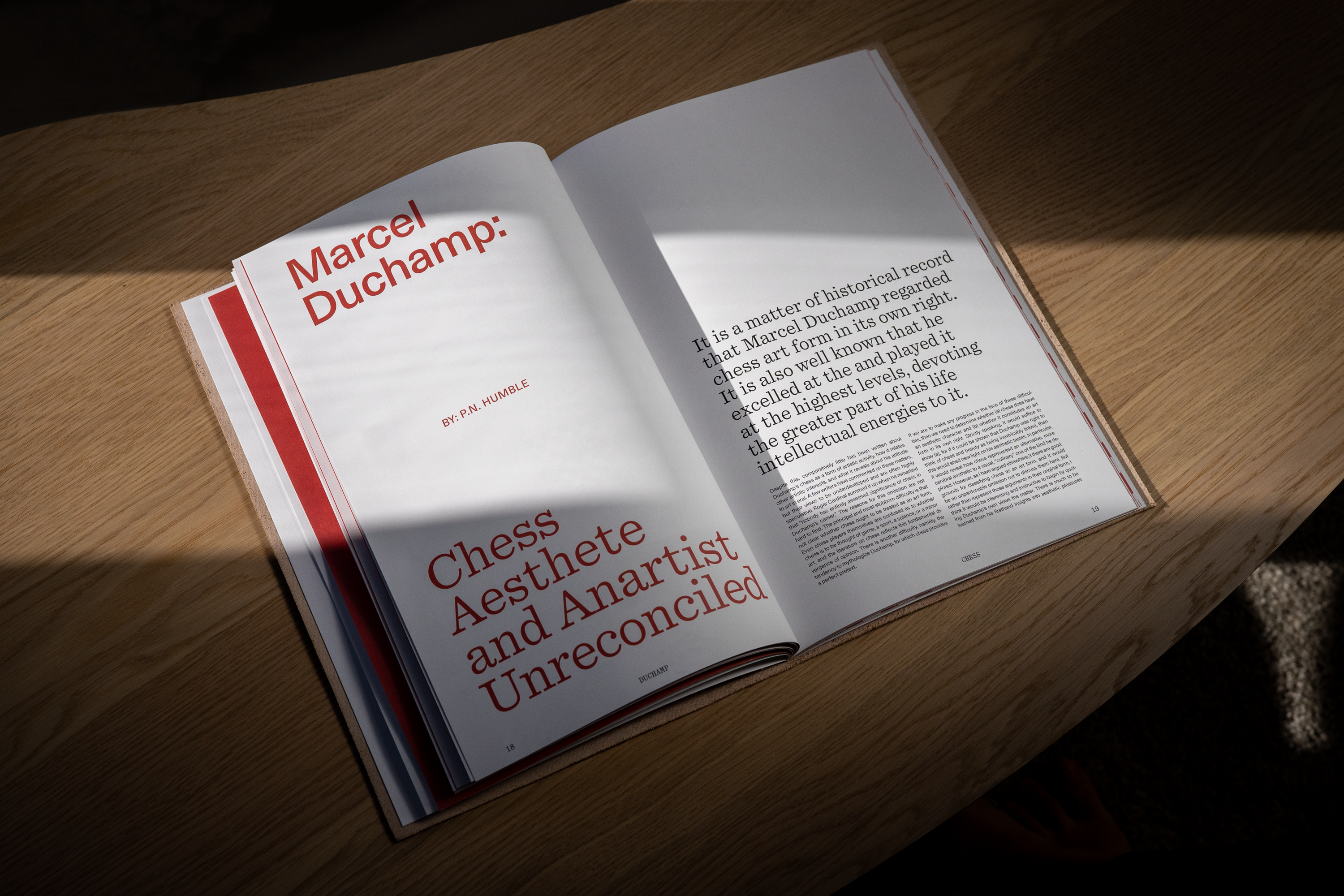 SpreadsThe spreads were designed on a 1 x 1 grid emulating the chessboard. The seven sections include an essay on Matisse's relationship with chess, while the other essay delves into three of the most important chess games in our history. Other sections list famous chess players and define the game of chess.


Spreads
The earliest and perhaps most surprising discovery I made was Marcel Duchamp's relationship with chess in the late stages of his career. As a result, creative and typographic choices were intended to reflect my perception of chess in a more traditional setting. For example, I embraced the monochromatic photography style when using imagery, while also using an older feeling serif typeface in Quadrant Text. For numbers and dates, I made use of the mono version of Quadrant to lean into chess's emphasis on statistics.
Content
In addition to writings on Duchamp's interest in chess, there are recaps of the most famous chess games, instances where chess is played in popular TV shows.
Motion Graphics
Various motion graphics created in After Effects and Cinema 4D.


Year: 2016 – 2022
Category: Motion